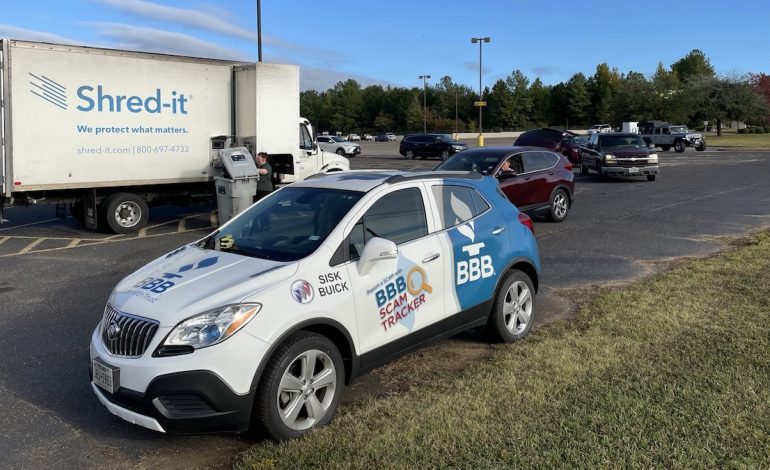 BBB To Host "Secure Your ID" Day Shredding Events
Better Business Bureau (BBB), serving Central East Texas, will be hosting three "Secure Your ID" shredding events in October and November to help consumers and businesses securely destroy documents and help prevent identity theft. These services are provided for FREE and attendees are encouraged to bring paper documents which contain personal and/or financial information to be destroyed.
The events will take place in Longview, Lindale, and Jacksonville. Locations, times, and dates are as follows:
Lindale: Wednesday, October 12, 9:00 AM – Noon at Lindale Chamber of Commerce, 205 S. Main.
Longview: Saturday, October 25, 8:00 AM – Noon at the Drug Emporium, 2321 W Loop 281.
Jacksonville: Saturday, November 4, 9:00 AM – Noon at UT Health Olympic Center, 501 S. Ragsdale St.
"We want to give businesses and the community the opportunity to safely discard any documents which contain personal information," Rachelle Ewart, Community Outreach Coordinator for BBB in Central East Texas said. "This is a quick and easy way to make sure your information is not compromised, and we are so happy to offer the services to consumers and businesses across East Texas."
BBB held their annual "Secure Your ID" day in April at the Tyler offices, in which more than 33,000 pounds of documents were securely destroyed along with three thousand pounds of electronics.
Shredding trucks and volunteers will be on hand to assist participants and hand out information on identity theft protection. All attendees must remain in their vehicles during the event. BBB has partnered with Ark-La-Tex Shredding, Shred-It, Drug Emporium, The City of Jacksonville, and The Lindale Chamber of Commerce to bring these events to the public, FREE of charge.
BBB Serving Central East Texas is part of an expansive network of BBBs across North America that collaborate to produce "Secure Your ID" day events. The program is a BBB-branded identity theft, fraud prevention and educational initiative that features on-site document destruction.
PLEASE NOTE: NO BOXES WILL BE TAKEN. PLEASE BRING YOUR DOCUMENTS IN A PLASTIC BIN, PLASTIC BAG, OR IN A BOX YOU CAN KEEP.