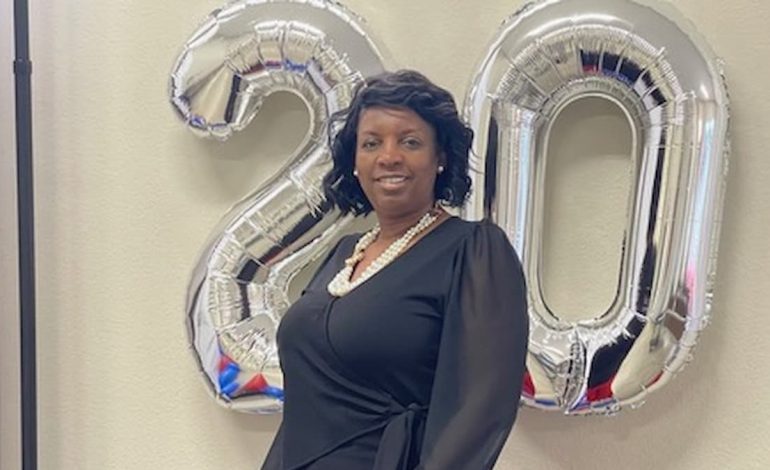 Tequita Dudley: First Lady Of Longview Transit
"I discovered a closed fist can't receive God's blessings. I learned to be a giver because my mother gave especially to strangers. That quality alone has given me an advantage in the business world."

Tequita Yvonne Dudley, Director of Operations \Greyhound Manager
By Joycelyne Fadojutimi
Tequita Yvonne Dudley learned significantly from parents: father Charles Dudley and her mother Gloria Jackson. As a single mother, Tequita, did a great job of raising her son Trymaine Dudley. He has 2 children, Chance, and T-Liyah Dudley. There is no gainsaying, Tequita adores her two beloved grandchildren.
The lessons she learned growing up makes Tequita one of Longview's chief success stories.
"My mother instilled the values of hard work and giving," she says. "Growing up I watched her work hard to provide for our family. If that meant working two or three jobs she sacrificed and stepped up to the plate without hesitation."
As the oldest child, Tequita learned quickly the demands her station in life required. She cared selflessly for little brother Marlon and baby sister Shalanda. Babysitting and performing household duties were tasks she gravitated to uncomplainingly. Her mother, who "never met a stranger," showed her the value of treating others the way she would have them treat her.
"I discovered a closed fist can't receive God's blessings," she says. "I learned to be a giver because my mother gave especially to strangers. That quality alone has given me an advantage in the business world."
Her father Charles taught her to not settle for well enough because, "anyone can be average." Moreover, she honors her parents because of their faith in the Lord, Jesus Christ.
Sundays were days for celebration. She attended church with her grandmother and returned home for a sumptuous dinner with family and friends. It is important to note, her grandmother emphasized the importance of family unity and Christian values. Tequita compared it to most 21st century families.
"Families often live under the same roof and never see each other, let alone communicate," she says. Still, hers has remained close and mutually supportive. They love each other's company and teach same family values to their children.
Furthermore, education is important in her family. Tequita nabbed her associate degree from Kilgore College. Later, she pulled down a bachelor's degree in business administration from Texas College, (TC).
Tequita can be described as a life-long learner with various continuing education courses. For example, she attends the annual Federal Transit Association Drug and Alcohol Conference. Moreover, she serves as the Drug and Alcohol Program Manager for Longview Transit. Hence, she keeps abreast with policies and procedures, thereby insuring the organization stays compliant for a yearly audit. Currently, she is working on her ADA Paratransit Manager Certification.
Tequita has been with Longview Transit for twenty years. She started as driver with the new Longview Transit then. Her excellent work ethic earned her a supervisory position. But wait, that is not all. She got another promotion and became the director of operation. Again, in 2016, she was promoted to the assistant general manager position.
She mused on her younger days. "In 1988, while in high school, I worked for the city of Longview in the traffic department as a clerk," she says. "As a child growing up, I had dreams of working in an office in a high rise with a beautiful view, helping people." Tequita's aspiration of assisting people in need incrementally came to fruition.
She started with DEAR Unit in Sabine Valley as a service assistant in 1995, providing transportation for the facility's clients as they transitioned from drug treatment and sought jobs, housing, and local resources.
"It was a difficult task because at that time people didn't want anything to do with someone on drugs or coming home from drug treatment," she says. "I was dedicated to their success and built relationships with people in the community who would help them."
After the Unit closed, Tequita moved on to the local Youth Shelter, working with less-fortunate children until that facility closed three years later. She then embarked on her career in public transportation. She enrolled in truck driving school and earned her commercial driver's license. She spent several months on the open road in an eighteen-wheeler. Tequita came back to Longview when she learned about the new transit agency. She started as a transit bus driver three years and earned a promotion to transit supervisor.
"At that time Edward Esparza was the general manager," she says. "He had little training to give me but gave me the opportunity to grow by providing the resources I needed to do the job."
After twenty years in Transit transportation, she is seeing it proliferate into all areas of public transit. She regularly attends quality seminars offering certifications in various fields. In addition, Tequita keeps Longview up to date on all current trends and technology, even finding time to acquire her World Safety Organization certificate, which is exceedingly difficult and rare. She was at the heart of the procedure last November when the City of Longview/Longview Transit took over Greyhound as the sole man ticket agent between Dallas and Shreveport. Tequita is now the local Greyhound manager.
Public transportation is a central aspect of modern urban and rural infrastructure with many benefits. According to Wendy Heaps, Erin Abramsohn, and Elizabeth Skillen treatise: Public Transportation In The US: A Driver Of Health And Equity, new or expanded public transportation has several benefits.
It can improve health and health equity by reducing traffic crashes and air pollution
Increase physical activity
Improving access to medical care, healthy food, vital services, employment, and social connection.
Reduces household expenses, public mortality rates, thus creating healthier lifestyles as well as decreasing highway congestion and emissions into the atmosphere.
Most important of all, it provides all members of society with freedom of mobility.
For these reasons Tequita is diligent and devoted to her work. "Every day, I direct activities related to dispatching, route studies, customer service, tracking transit vehicles and monitoring drivers," she says. "At any given time, I could be redirected to handle an event getting out of control, help a homeless person find shelter, or provide medical attention."
Sometimes, her drive to help riders moves her to re-rout those who get off at the wrong bus stop, monitor customer movements and track their buses. Transit is the perfect job for this woman whose life revolves around the welfare of others.
"I love helping people and watching people on the move," she says. "When someone asks me for shelters at a location or route changes, I like to provide it."
It all connects with her faith in the Holy Trinity because it allows her to make cogent decisions for people who need assistance without further ado.
Her faith in the Lord was very apparent in December 2019 when she was diagnosed with COVID-19 pneumonia. The illness deprived her of her lung capacity and kept her on a respirator for four months. Eventually, she was paralyzed and using a wheelchair. For five months, she fought for her life. She was unable to see her family. She witnessed other COVID patients lose their battles with the dreadful contagion. However, Tequita never stopped praying. Her faith in the Lord was unshaken.
"I learned to walk again and gained enough strength to return to work after the doctors told me I would be paralyzed and on oxygen the rest of my life," she says. "I have to say, my work family made coming back easy. I can't thank them enough for the love and support during that difficult time."
Now that she is back at work, she is more enthusiastic than ever about her job, inviting "the community" to come and ride on Transit. Furthermore, Longview Transit offers free travel training to those interested in making a career out of public transportation.
Public Transit Advisory committee meetings are open to the public. For more information on this resource contact Tequita at (903) 743-2287 #12 or at tdudley@longviewtransit.com. Her community involvement, however, goes far beyond the public transit system.
What's more, she serves as treasurer of the Zonta Club of Longview, Longview High School Z-Club Sponsor/liaison between Longview High and Zonta, chairs the Community Health Core Foundation, the Kilgore College Advisory Board, Aspire Mentor/Mentor and Group Facilitator, member of the Conference of Minority Transportation Officials, is a graduate of the Leadership Longview Class of 2013-2014, for six years has been a Court-Appointed Special Advocate (CASA); is a member of Sigma Beta Delta, is a member/usher of Red Oak Baptist Church.
Over and above that, since 2018 Tequita has been a World Safety Organization (WSO) Certified Safety Executive. She is responsible for the policies, programs and methods of whatever organization or entity that employs the individual. The objective is to control various hazards, risks and obstacles that threaten people, resources, and the environment. For more information on the WSO visit http://worldsafety.org/wso-professional-certifications/.
Despite stretching her busy schedule, Tequita finds time for pleasurable pursuits. She enjoys travelling. She is careful to check out public transportation in cities she visits in order to acquire insight as someone in a new city (such as travelers to Longview) might feel about using that city's municipal transportation system, giving her empathy with visitors.
"I traveled to London to see how it would feel to be in another country traveling without an assistant," she says. "It was difficult, confusing and scary." She took this lesson to heart, and it leads her to, "provide sensitive training to our operators."
Credit: "Public Transportation In The US: A Driver Of Health And Equity," Health Affairs Health Policy Brief, July 29, 2021. DOI: 10.1377/hpb20210630.810356