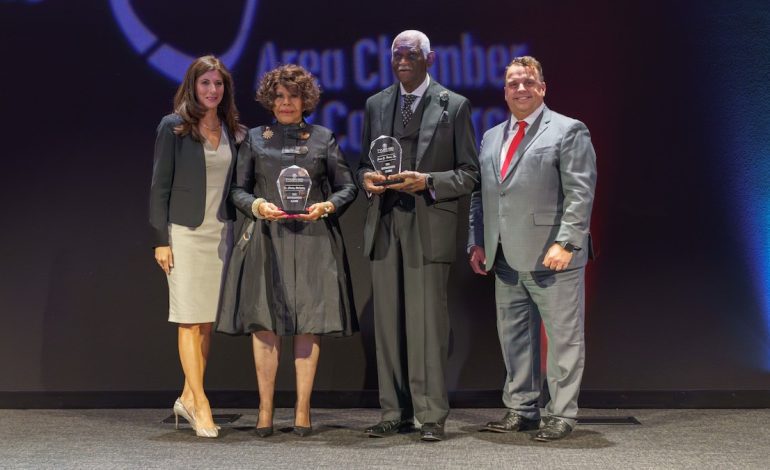 Tyler ISD Celebrates Community Excellence
Tyler ISD Superintendent Dr. Marty Crawford presented the Annual State of the District Address during the recent monthly Tyler Area Chamber of Commerce luncheon at the W.T. Brookshire Conference Center. Dr. Crawford discussed District achievements over the 2022 – 2023 school year and goals for moving forward with continued success.
Additionally, the District honored First Responders with the 2023 Community Partner of the Year Award for their commitment to creating a safe and secure environment for our students and staff. Tyler ISD honored Dr. Shirley McKellar and Jesse E. Rider Sr. as Distinguished Alumni.
Representatives from the following First Responder agencies were presented with a plaque: the Tyler Police Department, Tyler Fire Department, Tyler Fire Marshall, Tyler FBI Resident Agency, Smith County Sheriff, Smith County Fire Marshal, Smith County Constables, Alcohol, Tobacco, & Firearms, along with the Tyler ISD Police Department and Tyler ISD Safety and Security.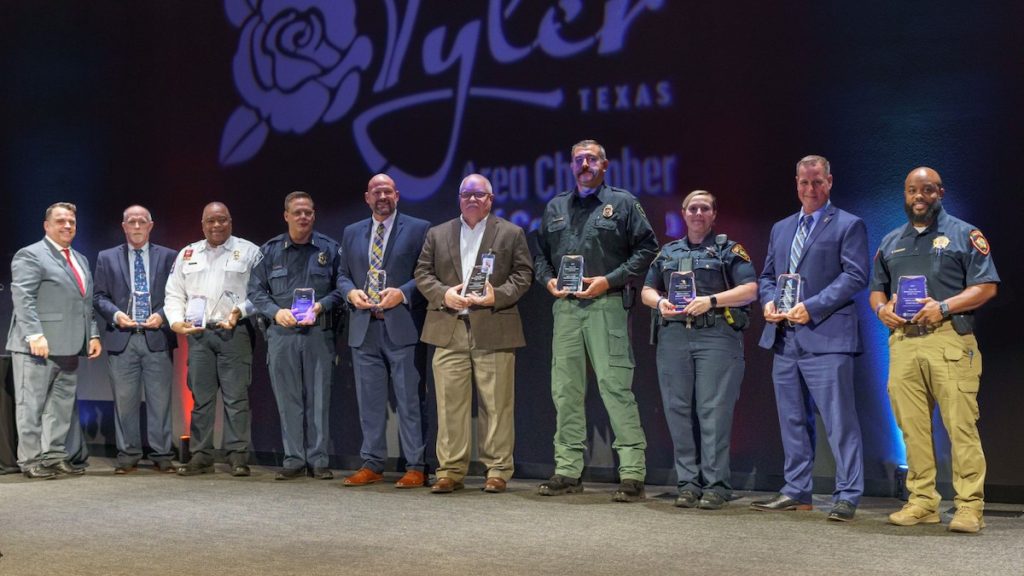 Dr. Shirley McKellar is a proud product of Emmett J. Scott Junior High School, Dogan Middle School, and Emmett J. Scott High School.
Dr. McKellar's professional experience spans from being a retired officer in the United States Army to the director of an African American Breast Cancer Outreach Project with The University of Texas at Austin and serving as a director of nursing and assistant director of nursing to several nursing home and retirement facilities and now to her current role as CEO of McKellar-McKellar-Ntaka and Associates., Inc. She has received many honors and awards, including the Operation Iraqi Freedom War Ribbon and War Medal, Army Commendation Medals (5), Texas 2000 Most Notable Woman, Outstanding Professional Female of America, Tyler Metropolitan Black Chamber of Commerce Award, Texas Transitional Award of Excellence, and Texas Outstanding Distinguished Woman of the Year Award.
Dr. McKellar is currently a City of Tyler Councilwoman and served as a candidate for the United States Congress, deputy mayor pro tem, was inducted into the National Black Radio Hall of Fame, and has been a radio, TV, and blog host.
Jesse E. Rider attended Austin Elementary School, Emmett J. Scott Junior High, and graduated from Emmett J. Scott High School. Rider has made Tyler home for his family and business.
He started his Tyler ISD career as an Industrial Arts and Shop teacher at the newly opened Dogan Jr. High in 1962. Mr. Rider also taught science and social studies and was a vocational counselor. In 2000, he retired from his educator journey in Tyler ISD as a lead counselor at the former Robert E. Lee High School. Since then, Mr. Rider has owned Rider Homes and Construction in Tyler.
Mr. Rider serves as Chairman of the Deacons at College Hill Missionary Baptist Church in Tyler. He is a former member and past president of the Rose-City Kiwanis Club and a member of Omega Psi Phi and Delta Gamma Boule fraternities. Mr. Rider has volunteered for Habitat for Humanity, the American Red Cross, and various other organizations. He has held corporate directorships, teaching, and consulting positions through the years. He served as president and chairman of the 2005 Parade of Homes, served on the Tyler Area Home Builders Association Board of Directors, the Tyler ISD Over-site Committee, was a member of the City of Tyler Planning and Zoning Committee, and was appointed by the Governor Rick Perry to serve on the Industrial Building Code Board for the State of Texas.
MIAN IMAGE: Dr. Shirley McKellar and Jesse E. Rider Sr. were honored as Distinguished Alumni by Tyler ISD.